My original plans for this weekend got knocked into a cocked hat when Marlies' Clutch went on Saturday Morning. But seeing as I had an entry for Swindon, and she didn't need my car today, I managed to rescue some track time by getting out of bed early.
Thankfully, the layback box was the right config as the track was still pretty damp until late morning. I got a chance to try out the new 720SPIN Camber/Toe guage and Wheel balancer that both came this week. Very chuffed with both, and I'll do Gear reviews for both soon.
I won't do the full race report, because it was a very small club friendly. Suffice it to say that it was another chance to practice dialling in the car to another set of conditions, and again get another notch of experience of adapting the B6.4 to changing conditions.
Things learned: The car doesn't like toe out on astro, it just washes out on power. It likes Schumacher Silver Cut staggers. It's lovely on Yellow Mezzos when it's dry enough. It likes 18mm of ride hight all round in the wet or damp. 15mm works quite well in the dry. The 10.5t Surpass is ideal for low traction or wet. Really didn't need to step it up until it was bone dry.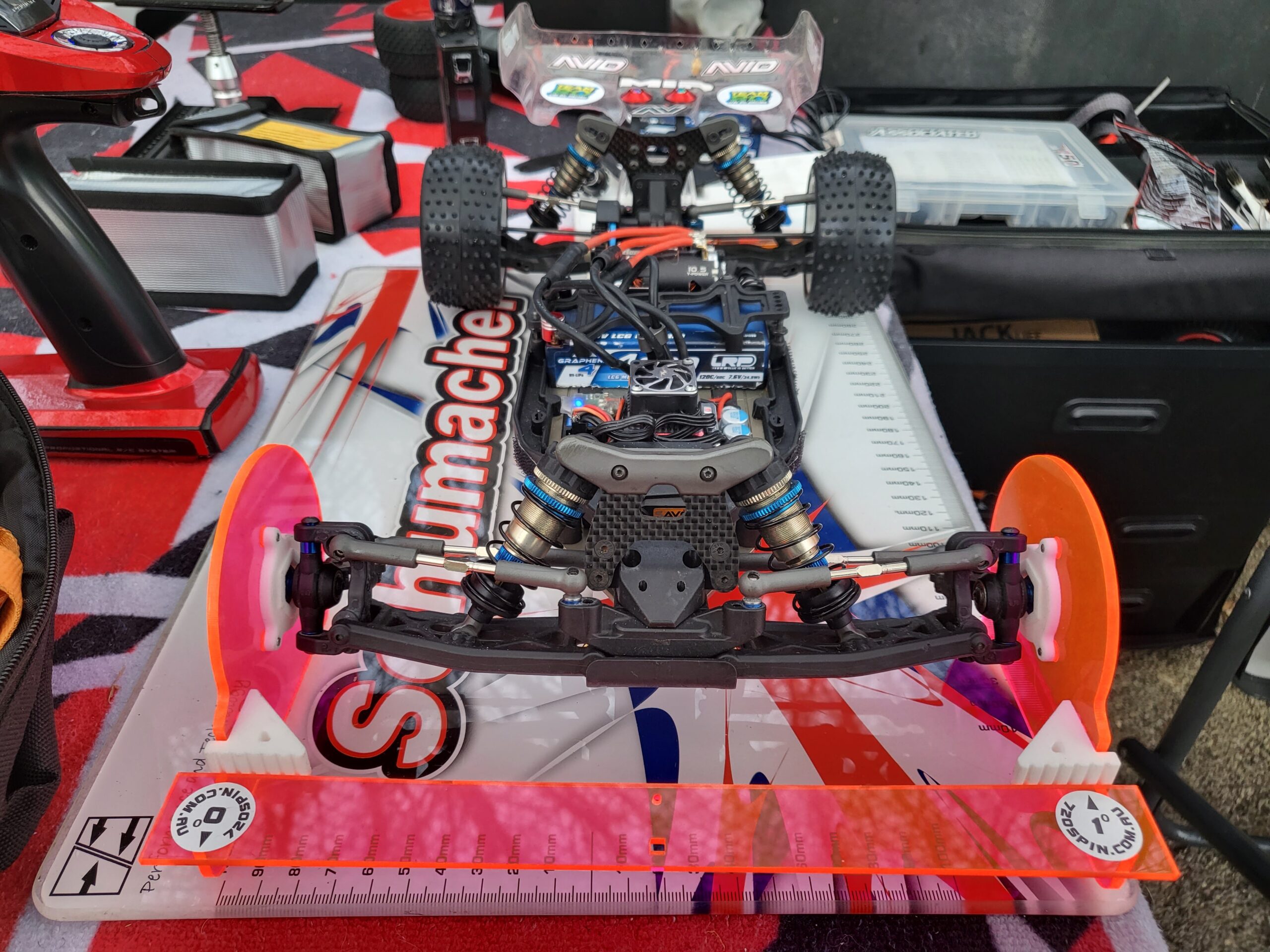 Completely frigged my J Concepts wing, but that's buggy racing.
Stuff on the maintenance rota for the this week:
Prepare a new Rear Wing
Redo the Servo Plug which is looking worn out.
Fit and reinforce the new F2 Bodyshell.
Touch up and reinforce the Associated Kit Body.
Ball and Gear Diff rebuilds
Damper Rebuilds with slightly softer damper oil and maybe try out the 3 hole pistons in the front if the weather looks iffy at Mendip next weekend.
Demount the Yellow Mezzo that I used in the Finals that are now knackered