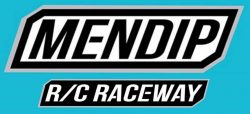 With many of the regulars missing today, and the track wet to damp and chilly, the chance to grab some easy points was irresistable. I set the B6.4d up with full monty wet settings and went for broke. And it paid off. A brand new set of Ballistic Buggy Spikes green on the front, and a set of Ballistic's Green Cut Stagger on the front. 4 degrees of Toe in, 2 of anti squat and the roll center as low as I can get it, Layback box, Rear dampers behind the wishbones and battery fully back. Still got a bit of over steer, I think because of being over damped. Maybe 350cst rear, 400 or 500cst front is better. But there just wasn't time to change it today.
Anyhoo, Blatted in two good Qualis in the morning.
Qualifying – Round 1
Race 1 – 2wd Buggy
Qualifying – Round 2
Race 1 – 2wd Buggy
And that was enough to book last in the A, Which did me nicely for the day, I didn't have the game for the other A finalists. But the more often you put yourself up against better competition, the more you learn.
Best Drive of the day was the 2nd final, with a pretty clean run. Still missing the rear traction to push, and really giving away time so that I didn't clobber the faster guys, just missed out on the 12 lapper I wanted by 3 seconds, but given the general tricky driving conditions, I'm still happy.
Finals – Round 2
Race 2 – 2wd Buggy – A Final