B6.4d
The main whip came back from Mendip caked in a nasty coat of black fine dirt and sand 🙁 The box seems free and smooth still, so a full gearbox rebuild wasn't needed, but the shocks and suspension needed some attention. I've made a short wheelbase mod to the rear lower arms that was suggested by the UK AE Team Drivers, and while doing that, I found i'd made a mistake on the last rebuild, and an under piston washer had fallen into the piston and was restricting the droop travel on one side, so correcting that was satisfying.
Also the Wheel hub bearings on the right side were quite gritty and not really free, so a run through the bearing blaster and re-lubricating was nice to get done. On the front, I found I needed to be using the +5 lower spring cups to get the full droop travel.
Both quite important spots to make sure the car rides bumps and lands after jumps correctly, so all good work.
Kyosho Optima Mid
The first run of a new car will always throw down a bunch of small issues that need attention. The Mid had two handling issues that should be quite eaily solved. In Kit form, the chassis ride height was quite high, and the car seemed to bounce over the bumps, rather than absorb them, so softer springs seemed a good call. But that conflicts with solving the other problem, "Grip Roll" and generally biting front end. which would probably be exacerbated by softer springs. For that problem, I've fitted a front roll bar.
The steering knuckle hinges were a problem, specifically, the left upper knuckle screw undid itself with vibration and the collar dissapeared, so that had to be replaced and the screws threadlocked in. I hate using threadlock, because it makes stripping the car down later a pain, but sometimes there's just no better option.
Next up was the central steering linkage, just about the only part on the car that I thought was below par. Its job is to link the servo output from the left side of the mechanism, to the right side. But it comes as a worringly flexible strip of plastic. So I got the OTW143 kit, where the link is a nicely machined alloy part, and the two brass bushes are replaced with bearings. As soon as you put the part on, the whole thing seems more positive and defined.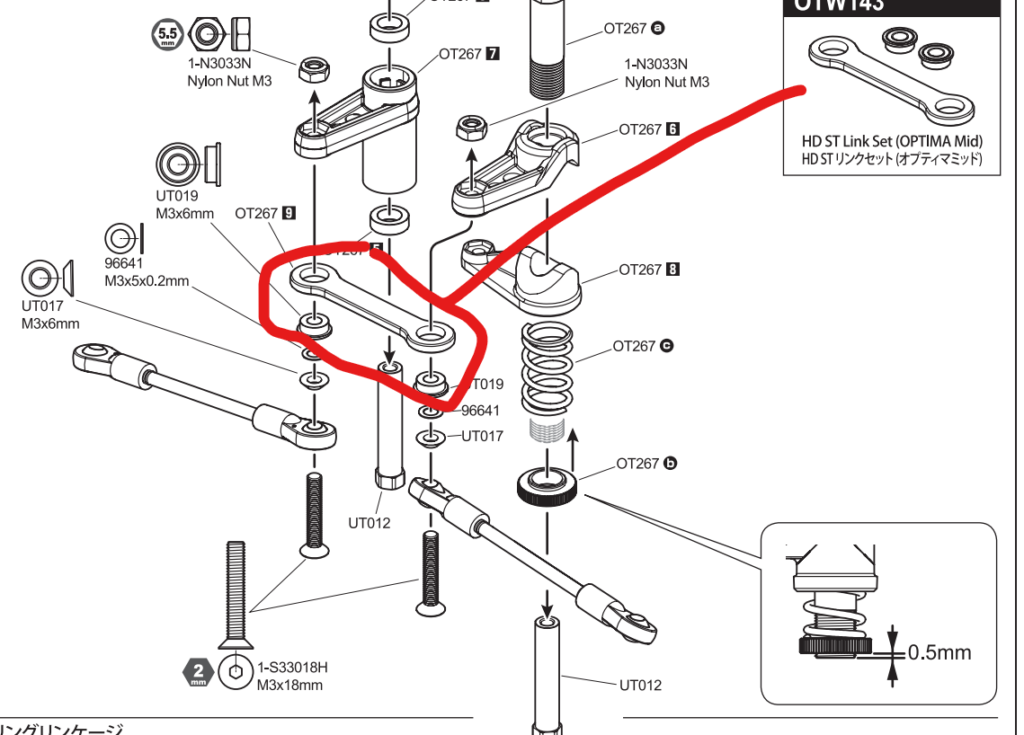 At the back, two screws holding the wishbone hinge pin retainer seem to have gone AWOL, so I replaced them and again threadlocked them in place.