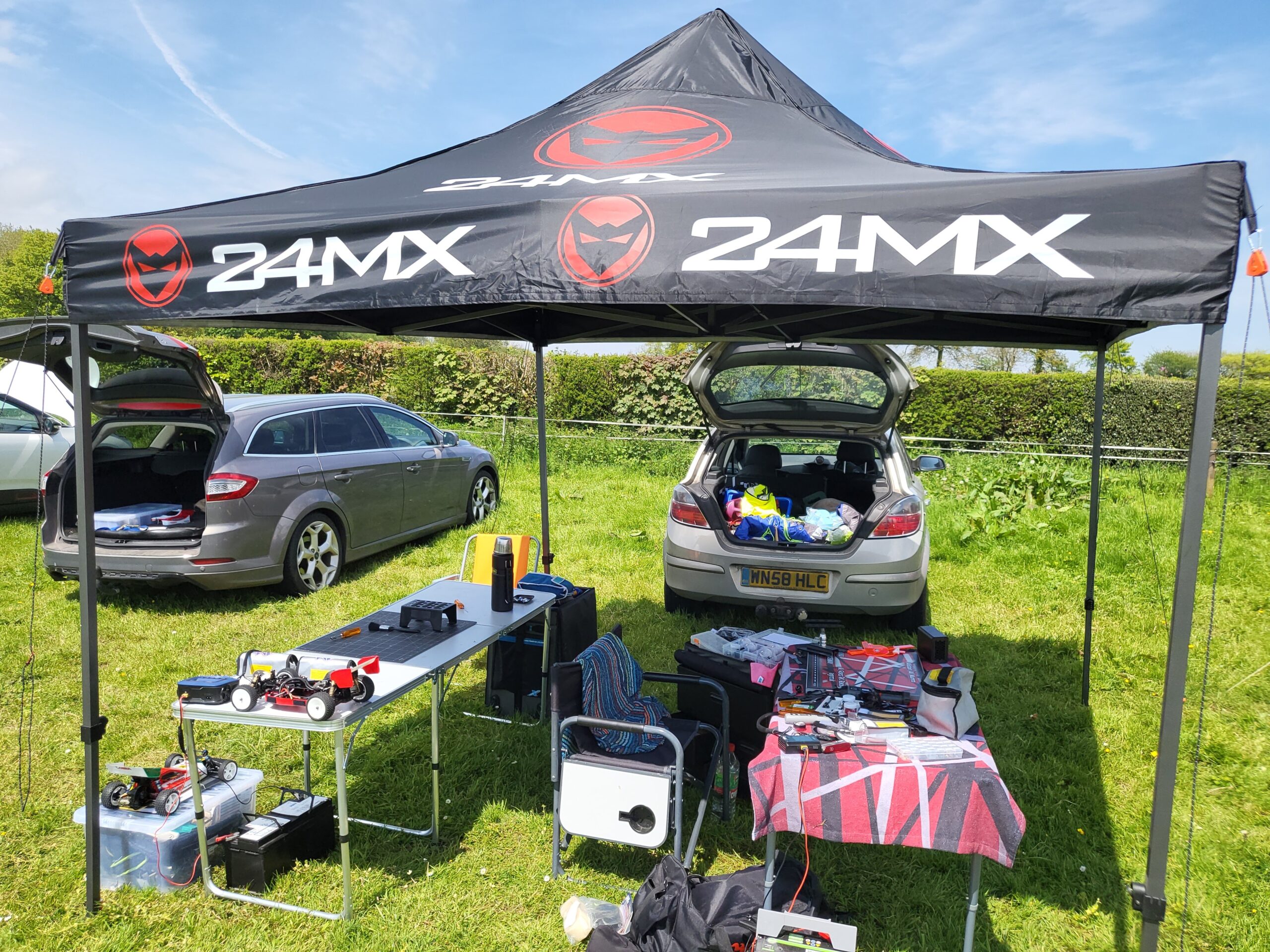 I think I managed to sum up Tiverton quite well yesterday.
It's the sort of place you go to and start to use settings that aren't in the manual.

Al – yesterday!
Anyway, the day started well being the first outing for my new 24MX Gazebo, Which serverd both me and my pit buddy Chris Cooke very nicely, keeping the beating sun off us and stopping almost inevitable sun burn.
As usual, The track was a new variation of tricky double apexes, awkward off camber sweepers and a big jump into a near 180 double back. There's no getting around the fact that it's all made more difficult by the astro turf, which seems to have it's own unique grip profile.
In practice the car seemed ok even with a 7.5t motor. The first heat felt OK, but no punch out of the corners. The reason became clear on a short inspection. The motor was very hot and I burned my finger on the slipper. Even tightening the the slipper and testing still didn't stop the slipping noise, sggesting a chirrping ball diff. Given that it was warm and getting warmer, I decided to give the gear diff a go, and sure enough, the chirping went.

Sadly, the experiment didn't work I kept it in for two rounds, but even with the shock layed fully over and really soft settings, the back of the car was constantly stepping out, and couldn't cope with being pushed anything like as hard as the other cars in the heat. But nothing ventured nothing gained.
The ball diff went back in for the last Quali, and I had an experiment with a thicker oil but softewr springs in the rear dampers. This all sorted the car back to a pushable state. Sure, the whole thing left me fairly low on the board for the final, but nothing ventured, nothing gained.
The final could have gone better, despite starting well, I got caught in a couple of tangles. But I went after the pace in the last few laps. I managed to pull off one of my best overtakes yet on the last lap, and the got lucky a few corners later to take advantage of someone else having a tangle with the track markers in the tight midfield section, which means at least I clawed back two places on my Quali performance. and I'll settle for that.